Giants, Bears, Bengals All Win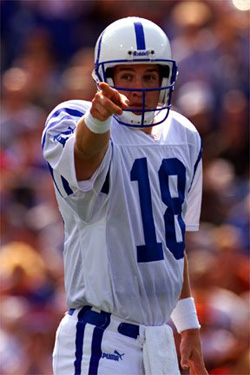 The Giants, Bears and Bengals all won yesterday to keep and/or extend their hold on first place within their divisions. Atlanta, Carolina and Seattle all did the same. But none of this seems as big as tonight's Colts vs. Patriots game in Foxboro. This is the type of game the Monday Night crew wishes they had every week.
Will Peyton finally shut up the naysayers and win a game on the Patriots home field? He's 0 for his last 6 attempts at Gillette Stadium. He hasn't had a better shot than this, but with Ted back in uniform, the Pats seem ready for the matchup. They need the win to hold onto first in the AFC East. The Colts need the win to prove they're for real. I'm not going to call this one, since it seems I'd be wrong anyway (like the Va Tech-Miami game and thinking Bart Bryant didn't have it). But I'm rooting for the Colts to win it so Peyton Manning can get a break and to see if Dungy can get his Indy squad over the hump and Super Bowl (?) bound. But, first things first. Time for some football in the 40's in New England.
How 'bout those Bears! I know, technically not that thrilling winning over the 2-7 Saints, but it's nice to see them winning the games in the clutch, driving when they have to get it done, and making the right plays at the right time. And that game was exciting to watch, I promise you (out at the Stardust on South Manchaca, of course). Brian Urlacher looked good yesterday (he was in on every play, I swear), as did Justin Gage and even Cedric Benson (14 rushes for 79 yards after Thomas Jones got injured in the first half). Adrian Petersen looked good as well (58 yds and a TD on 6 carries, on and this AP is in his fourth year from Georgia Southern, not the senior at Oklahoma, of course). Nice to see rookie (picked up after Game 3) Robbie Gould get a game winner as well.
Kyle overthrew a couple of balls, but looked alright overall. Gets excited back there I suppose and just lets the ball fly on occassion. Only one of the two picks he threw was his fault, but that one wasn't even close to his receiver. 12-26 for 137 with a TD and 2 picks isn't great by any means, but this Sunday it got the job done. The Bears are calling a lot of down the field pass plays for him and the wideouts, and I like that, but I'd like to see Orton complete a few more of those passes. Gage looked ready to play though, and 6'4" makes him a good target. Muhammad is always ready as well (who caught three for 85 yds on Sunday). Lance Briggs had 10 tackles and an assist to lead the defense. Chris Harris added seven. Hunter Hillemeyer had four tackles, a sack and an interception. Someone buy that man a beverage. Nathan Vasher too, 'cause he had four tacles, a pick and a forced fumble (returned for 49 yards by Harris). Bring on the Niners!
Did you know the Giants, Bengals and Bears, who are all currently in first place, didn't even make the playoffs last year? Gotta love the NFL (if you like change, that is).
Vick went out there and won a tough game on the road against the Dolphins as well, 17-10. Brought his Falcons to 6-2, still sharing the lead with the Panthers (who handily defeated the Bucs 34-14). He also passed for 228 yards, the same total he had in his last two games combined. He talked some smack after the game saying how great he was throwing the ball from the pocket and all that. Well, Michael, you've got Green Bay next week, so we expect the same as well against the Packers less than stellar pass defense. Although they're ranked 12th in the NFL, they have allowed 14 TD's through the air in only eight games (6th worst in NFL). In addition, they've only intercepted six passes (T-9th lowest) and registered 18 sacks (19th). While Matt will expect the Pack D to step it up, of course, the Falcons fans and media will certainly expect another great passing performance from Michael Vick. Well, if he runs a 59 yard TD on 'em, they may just forget about the passing thing again.
The Steelers stayed hot as well, taking out the Packers 20-10. 1-7 isn't what Brett had hoped for, for sure, but he probably thought he'd still have his starting RB and WR's too. Or even his second or third string RB. Not to mention his center and tight end. Or either outside LB or the starting right corner. Every NFL team gets hurt, but the Pack has had more than it's share this year, to this point. Can Brett turn them around and get close to respectability? Will he come back for one more season? We'll find out in the coming weeks.
The Redskins win over the Eagles Sunday night was a big one for them as well. Keeps them in the hunt in their division with a 5-3 record. Brunell had a great game, going 21-29 for 224 yards. The defense came through with an interception and only held the Eagles to 47 yards rushing (although they are the worst rushing team in the NFL). Think they're paying Westbrook all that cash for 17 rushing attempts for 24 yards? 55 yds receiving?
Meanwhile, the drama in Philly plays on. I think TO is done in Philly, and maybe from the NFL for the remainder of the season. He'll come back and play for somebody, but I hope he keeps it together in the future. Maybe he's beyond saving. No one knows except Terrell.
Alright, that's all I have for now. Are you ready for some Football?
Later.
♦Digg it ♦del.icio.us ♦Technorati ♦StumbleUpon ♦Google ♦Yahoo ♦reddit