One More Game at Busch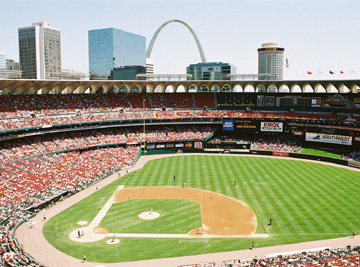 The Game 6 that shouldn't have been starts at 7:00 tonight. The Cards have new life nobody thought they would have 2 nights ago. On the other hand, they still have a tall order of beating Oswalt and Clemens back to back. I would advise the Astros to get down to business tonight. I know if it goes another game they have "Rocket" on the mound and normally I'd take my chances with him, but I just don't see them winning a 7th game in St. Louis having dropped the last two.
Listening to the media and all the Astro fans that infest my home state is making me realize that some fans wouldn't really mind losing the NLCS in such a fashion. With all the ridiculous comparisons to the Red Sox that I've heard over the past 24 hours, I'm starting to believe Astro fans would rather be famous for suffering than winning. Although their suffering is far less drastic than those of Red Sox Nation. One of my buddies, who was at the game, told me I had no idea what it is like to watch an event like that unfold. Really? How is losing a game 5 when you're already up 3-1 that dramatic? This isn't Bill Buckner. It's not Kirk Gibson. And it's definately not John Elway windmilling himself for a first down in the waning minutes of Super Bowl XXXII. So stop acting like it's a defining moment in sports history. Newsflash, Houston! Nobody cares about the Astros but you. And you only care about them when their winning. Nobody in Boston or New York feels pain for the Astros, except for Bill Simmons, who wrote a column sympathizing with Houstonians on ESPN.com today. But I'll bet a shiny nickel the only reason Simmons wrote that article is so he can once again talk about the Red Sox. He's losing vicariously through the Astros.
Meanwhile, Eckstein is recieving as much credit as Pujols is for the 9th ininning comeback. Afterall, Eckstein is the one who started the rally. I know it was a lucky dinker through the hole and typically I hate analysis like this. It's driven by America's love affair for the "scrappy" ballplayers like Eckstein, Podsednik, and Darren Erstad. I hate this attitude but I can't help but love Eckstein who I call "The Little Shortstop That Could." Seeing him get beaned by a 90 mph fastball and then chunk his bat down and sprint down to first base reminds me of little league.
Here's an interesting stat: Did you know that in Ozzie Guillen's playing career he was victimized by the hidden ball trick 3 times? Unbelievable! You'd think after being embarrassed once you would never let it happen again. Let alone a third time.
♦Digg it ♦del.icio.us ♦Technorati ♦StumbleUpon ♦Google ♦Yahoo ♦reddit