Let's get it on!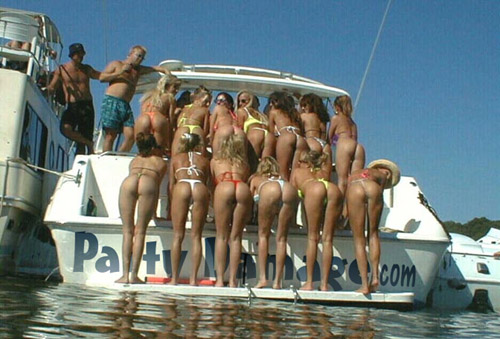 I'm sure everyone by now has heard of the Vikings' Thursday night boat party full of sex, masturbation, and dildos. At least 17 unnamed players rented 2 boats to cruise around Lake Minnetonka. Fred Smoot, who rented at least one of the boats, apperas to be the ring leader. None of this would ahve been made public had the boat employees not been so offended and scared by the behavior that was taken place on the boat. The team issued this statement:
"The organization has been made aware of the allegations involving our players and we take these allegations very seriously. We are working diligently to gather as many facts as possible. At this time, we have no further comment."
At a press conference, Mike Tice added that the team is a family, so as a father he is very upset. Yeah, right. Does anyone believe for a second that Coach Tice wasn't on that boat raffling Super Bowl tickets for a hummer? C'mon.
Mewelde Moore admits to being there, but says he saw no sex acts and definately didn't participate in any. "Sex? What are you talking about?" Moore said. "That's crazy. Sex? Come on. Look, I'm engaged. So none of that. That will put me in trouble." Sure, we all know how faithful professional athletes are. I hope you're picking up the sarcasm. I'm laying it on pretty thick here.
Combine this with the infamous Whizzinator story about Onterrio Smith and you've got one disfunctional team. How ironic is it that not only do the Vikes miss Randy Moss on the field, but off the field as well; as a role model. In fact, at the end of June, Randy Moss held a charity bass fishing event to benefit children in Minnesota. The lake the evnt was held on: Lake Minnetonka. Hilarious! Moss who was exiled because of character issues uses Minnesota's fine lakes to benefit the youth of America. His ex-teammates use them for lude sex acts.
Daunte Culpepper refused to answer questions about the event. "If you're not going to ask me a question about the Chicago Bears, then don't ask," Culpepper told reporters at Winter Park. "Playing in the NFL is tough enough without any distractions." You are absolutely right Daunte. Here's a stumper. Would you consider a fraternity-like orgy on 2 boats in the middle of a lake involving at least 1/3 of the team a distraction? Or is it only a distraction when reporters ask you about it?
It's no wonder why this team is 1-3. The other teams in the NFC North at least have an excuse. They're not very good. What's the Vikings excuse? Having 8 former pro bowlers. This team is a joke. Seriously, when the hell is Mike Tice getting canned? Let's set the over/under at Thanksgiving. I'm taking the under.
♦Digg it ♦del.icio.us ♦Technorati ♦StumbleUpon ♦Google ♦Yahoo ♦reddit