A letter to roger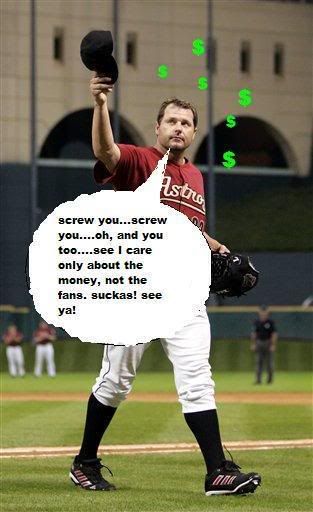 (
Thanks to Daniel Lackey for this Awesome Pic of rogers inner monologue)
Dear Roger,
Hey buddy, hows it going? I know i have not written in awhile, i have just been so busy, but it looks like you have been busy too huh? Busy pretending to make a decision that you had all ready made from the outset of the season. Busy keeping the hendrick's brothers in check until the drama was just right, like a babyface wrestler running into the ring to rescue a maiden in distress. You like that analogy dont you? Of course you do, its all about you buddy.
Ya see rodge the problem with that analogy is that you are no babyface, you are a heel. The Yankees are no maiden , they are the most disliked franchise in sports today with the highest overall salary in the history of this sport. The Yankees are not even in distress, they may have had a bad April by their standards but nothing that wont work itself out by pounding on the smaller market teams for the reminder of the season.
So they came and got you outta Texas huh? Like you were just roping some cattle one day and suddenly a jet with the Yankees logo touched down and whisked you away to land with running water and high rise apartments. You decide to address the New York crowd in the seventh inning from George Steinbrenner's personal box and begin with "Hey Yall"? What the fuck is wrong with you?
Is it not enough that this city embraced you like some sort of athletic Deity? Is it too much to ask that when you decide to go somewhere else you at least respect the city, organization and State the has fostered you like precious gem every second of your existence? HEY YALL? You did that on purpose, you know how to speak, you know how to address large crowds, you have done it a thousand times. You did this to play to The New Yorkers and they ate it up. "Country bumpkin comes back to pitch for the pinstripes", i am surprised the daily news didn't run that as their cover.
I cannot blame you for this, if any human in this world could get paid 227,000 dollars just to throw one pitch, no one out there would turn that down. I guess im just hurt roger, i thought we had a good thing going down here. Turns out, you were just not satisfied with what we had to offer. Not enough flash? Too many puff pieces in the chronicle? Too many adoring fans that explode at the mere mention of you steroid abuse? The other side is going to be rough rodge, The Red Sox are alot better since you saw them last, so are the Blue Jays. Devil Rays and Orioles.
This is about the money, isn't it? The Astros wouldn't have given you that money, The Rangers wouldn't have given you that money. The Red Sox might have just to keep you from going to New York. You have left us for the same reason Andy did, the money. This hurts so bad, not that the Astros truly needed you like everyone thinks, their starter's are actually doing quite well. Its just for awhile there our little baseball team was big time and you helped build that. I have seen more Astros gear in the last 3 years on people than ever before in my life. I have walked into bars with an Astro shirt and received high fives just for merely representing the team. That kind of excitement you helped build, its something that The Yankee's will never be able to duplicate because their stature as an organization.
Damn Roger, this is a hard letter to write. I love you and i hate you. I'm thankful for all you have done for this team but I'm upset at this recent turn of events. I'm sorry we couldn't satisfy you rodge, i hope that people will not hold a grudge against you for going to New York for a shitload of money when everyone in Houston would have had a fundraiser just to pay you. I hope that you don't hold a grudge when we cut you talentless hack of a kid in single A. I hope you don't hold a grudge when we cancel your ten year service contract with the club. I hope you don't hold a grudge when we stop defending you for the the steroid's that you did. Good luck in New York, Thanks for leaving without finishing the job, I hope that somehow The Astros do finish the job someday and you have nothing to do with it.
♦Digg it ♦del.icio.us ♦Technorati ♦StumbleUpon ♦Google ♦Yahoo ♦reddit